Need a family holiday? Overwhelmed by all the choices? The family holiday is a big investment. Here at BYOkids we specialise in family travel arrangements and have travel consultants Australia wide all experienced at travel with kids in tow. You wouldn't cut your own hair or service your own car, you'd leave it to a professional. So don't risk your perfect holiday, let BYOkids arrange a family holiday package for your family within Australia or worldwide. We know all the best kids club resorts, cruises, adventure and kids stay, play, ski or eat free deals ...Check out our Family holiday deals, kids clubs resorts, adventure holidays, cruises purchase theme park tickets, attraction passes and more. Give us a challenge! We can arrange the perfect family holiday anywhere in Australia or worldwide.
A BYOkids qualified travel consultant can work with you via phone and email to plan and book your family vacation enquire online here or call your BYOkids travel consultant on 1300 BYO kids (1300296543). If its something simple like domestic accommodation, a short flight or a day trip you can even Book Online
We'll share family travel articles, things to know before you go, product reviews. You can even book a restaurant, buy travel insurance, adaptors, luggage, maps, day trips and order free brochures. When you're ready for that great family holiday enquire online here or call your BYOkids travel consultant on 1300BYOkids (1300296543). Subscribe to our free e-newsletter now to be the first to know all the family deals ...join here
Today's travel features:
Dreams come true at Disneyland - stay and play 6 night package. Take the kids on a magical journey. This family package to Walt Disney World Resort, Orlando, USA includes transfers, 6 nights accommodation and a 6 Day Walt Disney World Magic Your Way Ticket. Four Theme Parks, two Water Parks, over 20 themed Resort Hotels, two entertainment districts, and a state-of-the-art sports complex immerse you in a world filled with exhilarating excitement, fantastical thrills and whimsical wonder. Add in countless opportunities for dining, shopping and refreshing recreation and it's easy to see how this vacation of a lifetime has enough smiles for everyone. Package from $2788 per family, flights to USA additional. Your BYOkids travel guru can find best available flights and why not stay on and add a Carribbean cruise or a New York, Vegas or Los Angelos stay to your itinerary, ask your Guru! Find out more....

Paradise in the pacific Samoan package - Located on the scenic northwest coast of Upolu, Aggie Greys Lagoon, Beach Resort & Spa is the only full facility resort in Samoa. Offering 140 spacious, air conditioned rooms, all with sweeping views of the vast lagoon and white sandy beach, the Resort caters for families with loads of water and land activities, beautiful beaches and a kids club. At Aggie Grey's Lagoon Resort you can relax by the pool with a refreshing drink from the swim up pool bar, indulge in great dining at a choice of 5 restaurants and experience the wonderful Samoan cultural Fia Fia night. Kids will enjoy fun times at the Dolphin Kids Club and the Aqua Samoa Watersports Centre provides a great array of water activities including catamarans, water skiing, snorkelling, jet skis and kayaks. This package is priced from $3792 per family of 4 which incluces 8 nights accommodation, airport transfers, breakfast and dinner daily. Flights are additional but your BYOkids consultant can find the best available for your preferred travel dates. Plus larger families must take 2 interconnecting rooms so price will be higher but your BYOkids consultant can quote for you. Find out more.... Order your complimentary travel brochures here...
Stay 6 nights only pay for 3 at Sunwing Resort Kamala Beach, Thailand - Family suites at Sunwing Resort Kamala Beach, Phuket can sleep up to 6 people plus an infant. Perfect for larger families, enjoy the world-class quality of this 4.5 star family Resort...at a great location and vacation value. Genuinely warm and inviting, this laid-back hideaway will inspire you to do it all... or nothing at all. Families can enjoy the perfect escape but if wanted the resort is not too far from bustling nightlife of Patong as well. A favourite amongst BYOkids staff and their families this resort has all the ingredients for a perfect family holiday, great kids area and activities, kids eat free, swim up pool bar, beach massage, choice of restaurants, large rooms and fantastic pools. We also have stay 10 nights pay 5, stay 8 nights and pay 4. Prices from $1320 per family of 6 for 6 nights including breakfast daily and kids eat free, (flights additional) Find our more .....
Le Meridien Tahiti family package - Tahiti is on many peoples travel wishlist. The great news its now more affordable than ever. A luxury Pacific destination thats perfect for families. Our BYOkids 7 night package includes flights ex Sydney, Melbourne, Brisbane, Le Meridien Tahiti garden room accommodation, airport transfers, accommodation, breakfast daily and loads of free activities. From $7440 per family of 4 and $10340 per family of 5. Complimentary, family-friendly activities such as kayaking, beach volleyball, snorkeling, and the South Pacific's largest sand-bottom lagoon swimming pool are just a few of the activities available for enjoyment. Although there is no designated Kids Club on site, Le Meridien Tahiti offers dependable babysitting services. Tahiti is an oasis for a family who loves beautiful beaches, turquoise waters and endless island adventures. Discover the Grotto Caves of Mara'a and Matahia Spring while enjoying panoramic views of the lagoon. Visit one of Tahiti's biggest roadside attractions, the Blowhole of Arahoho after visiting the lookout point of Belvedere and the gorgeous black-sand beach of Point Venus. A perfect ending to an adventurous day would be to relax on a sunset cruise that takes you out to the ocean to view the sun setting amidst the blend of the twilight clouds. Experience Tahiti now.... Order your complimentary travel brochures here...
Cruise holidays are so relaxing, so much fun and you get to travel to any number of countries with only unpacking once! But for busy mums and dads some of the best things are someone cleans your room every day...nice! and a chef cooks every meal for you! wahoo! plus as a bonus the kids are kept busy with new friends or loads of activities and kids club...yeh! We have cruise specials in the South Pacific, Asia, Caribbean, Mediterranean or even New Zealand, Antartica, Papua New Guinea, Fijian Islands, Tahiti, Hawaii or around Australia. Interesting cruise facts: On P&O PACIFIC SUN 80 tonnes of food and drink are consumed each cruise. There are 72 chefs, cooks and bakers who prepare more than 8600 meals per day for passengers and crew, delivered by 96 waiters. 13,000 plates, 10,000 glasses and 15,000 pieces of cultery are washed each day. Luckily they have 29 dishwashing machines onboard. On an average cruise, Pacific Sun's culinary team of 72 chefs, cooks and bakers will use around 50,000 eggs, 1000 kg bacon, 2500 kg rice, 1000 kg lettuce, 1500 kg pineapples, 2800 kg chicken, 5000 litres of milk, 375 kg of coffee and 7500 tea bags. If you'd like to cruise ENQUIRE NOW
Golden Sands Resort Penang Malaysia is the perfect getaway, just a short flight from Kuala Lumpur Malaysia. Our family combo offer includes buffet breakfast daily, 2nd interconnecting room, Kids stay, play and eat programme for 3 kids per family up to the age of 12. Golden Sands Resort is situated right on the seafront of Batu Ferringhi Beach. Eight acres of tropical grounds lead down to the beach surrounding swimming pools, and the famous Sigis by the sea beach bar the best place for sunset drinks and dinner. Excellent facilities including restaurants and bars as well as water based activities, tennis and spa. Ideal location close to the night markets and all the shopping, entertainment and restaurants that you need. This resort is a great choice for families but has plenty to offer the adults too. The kids club is well known as one of the best and offers a wide choice for kids of all ages, including waterslides, games rooms and many daily activities. The Adventure Zone is a unique family entertainment centre for children and adults. 7 nights for a family of 5 from $3040 (flights additional) Find out more..... Order your complimentary travel brochures here...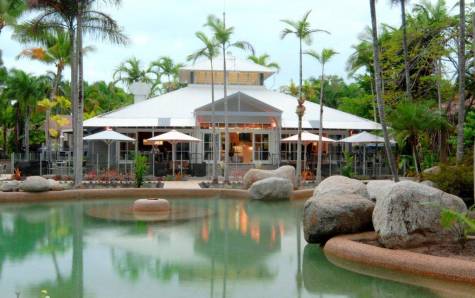 Back by popular demand - Our Port Douglas family package 5 nights from $581 - This is a fantastic offer in tropical Port Douglas in far North Queensland. You'll have five nights in a two bedroom villa, breakfast daily for two adults plus as a bonus kids 11 and under eat free! Family of 4 from $581. Port Douglas is located north of Cairns and has stunning beaches, direct access by boat to the Great Barrier Reef, its surrounded by tropical rainforests, has an range of restaurants, shops and loads of attractions to visit and enjoy. Rendezvous Reef Resort, Port Douglas is located just a short walk from Four Mile Beach and a 3 minute drive to the main village of Port Douglas, Rendezvous Reef Resort is set amongst 15 acres of lush tropical gardens. Enjoy the many resort facilities available including three lagoon style pools, children's wading pool, 25 metre lap pool, gymnasium and barbecue area or relax poolside at the Swish Restaurant and Bar. This package is fantastic value and you'll have cash left over for sightseeing, take the Kuranda railway, snorkel the Great Barrier Reef, Visit the crocodile farm or just relax by the pool. Find out more....
Cook Islands, Edgewater Resort and Spa - Relax in the stunning Cook Islands with this stay 5 nights pay 3 nights. With flights now direct to the Cook Islands from Sydney, the Cook Islands are a fantastic option for those looking for a tropical break. A family of 4 can stay for 5 days for as little as $666 in a garden room. Set on the sheltered, western sunset side of the island, bordering a white sand beach and deep blue lagoon, the Edgewater Resort and Spa is just an 8 minute drive from the airport and a 10 minute drive from town. The Edgewater is the largest resort in the Cook Islands with a big soul and a genuine naturally friendly atmosphere. With plenty of accommodation, dining, activity and pampering options, The Edgewater is the perfect choice for a family getaway, romantic wedding or indulgent Cook Islands honeymoon. For travel to 31st March 2014...escape to the Tropical Cook Islands today, find out more..... Order your complimentary travel brochures here...
Be a star and join our facebook community of over 25,000 people. Keep up to date with whats happening in family holidays, enter our competitions, admire our images and join in the conversation. Plus be the first to know of what specials and deals are on offer. Don't be the only one not in the loop, join us on facebook today.
Buy theme park tickets online and skip the queue. Or looking for sightseeing options either in your town or at your holiday destination? Or perhaps you are heading to the theme parks and want to grab your tickets online to avoid the queues. Easy peasy we've got all the tickets you need available to purchase securely online click here to see and book them now.
last minute accommodation available - check out the last minute accommodation options - Here's some ideas to get you thinking; a beach holiday in Queensland, a golf holiday down south or a lazy weekend by the pool at a nice resort close to home. We have a range of online accommodation throughout Australia all at last minute prices. A fantastic range that suits families including holiday cabins, caravan parks, holiday houses, apartments, hotel rooms even houseboats. Port Stephens from $25, Melbourne from $75, Perth from $99, Sydney from $120, Mornington Peninsula from $130, Port Douglas from $118, Darwin from $22, Adelaide from $99, Gold Coast from $75 Don't forget to check all our online accommodation deals from $23. Download your free Australia brochure click here